The key to our program's success is our unique approach to sobriety called "Enthusiastic Approach" or "Enthusiastic Sobriety™". In this, teen and young adults are shown a life that is fun and exciting without the use of mind-changing chemicals. Our Enthusiastic Sobriety™ approach caters to the natural fun loving tendencies of teens.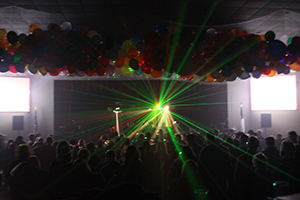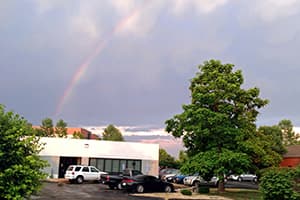 When beginning our drug rehab program, the first step is for a teen to meet with a counselor who explains the treatment they are about to undergo. If the teen is interested in the treatment and expresses willingness to commit to it, they are admitted into our outpatient program. Throughout alcohol or drug treatment and for up to 2 ½ years after completing IOP, teens are encouraged to attend three weekly support groups as well as sober social events on Friday and Saturday night that reinforce our Enthusiastic Sobriety™ approach. These sober activities include dances, house parties, movie nights, game nights, etc.
It is these sober social events that are crucial to achieving Enthusiastic Sobriety™. Teens crave social interaction and are highly influenced by their peers. Our drug rehab program embraces this, and teaches kids how to handle these situations while remaining sober. Teenagers love to brag about what they did on the weekends, and the energetic creative staff at Crossroads makes sure that all of our drug rehab support group members have stories that compete with whatever weekend parties that they are used to attending, with one major difference: sobriety.
Our Symbols of Sobriety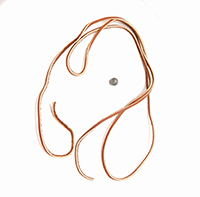 There are three primary symbols that The Crossroads Program uses to acknowledge personal sobriety and family involvement in our drug rehab program.
Wanna Ball
When a young person first makes the commitment to enter drug rehab and stay clean for 30 days, they receive a "wanna ball" (a round musket ball) to carry with them as a reminder of their promise.
Monkey's Fist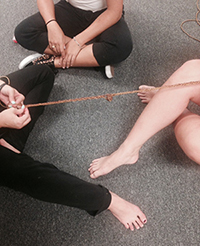 When the young person obtains 30 days of consistent sobriety, they return the "wanna ball" and a "monkey's fist" is made from it. The "monkey's fist" is presented to them in a ceremony in the presence of other support group members in the drug treatment program and is viewed as point of honor and community.
A "monkey's fist" is a mariner's knot that was created so that a line could be thrown from a ship to the dock—the first contact the ship has with land— inside the knot would be a weighted ball. The crew on shore would catch the knot, secure the line to the dock and pull the ship to shore. At Crossroads, we have adopted the "monkey's fist" as the logo of our drug treatment program because it symbolizes the group pulling the newcomer from the stormy ocean of drugs and alcohol to the safe, solid ground of sobriety. Traditionally, the monkey's fist is suspended on a piece of leather or paracord and worn around the young adult's neck. When the young adult achieves one year of sobriety, they receive a year's fist, which consists of a regular monkey's fist made with three hundred and sixty-five braids.
Parent's Heart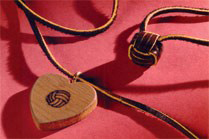 The Crossroads Parent Group's symbol for participation is the "Parent's Heart." This heart is made from carved wood, and worn around the neck suspended by a piece of leather. Embossed on the heart is a monkey's fist symbolizing the teen we seek to pull ashore through drug treatment, who is embedded in each Crossroads parent's heart.
Learn More About Our Drug Rehab Center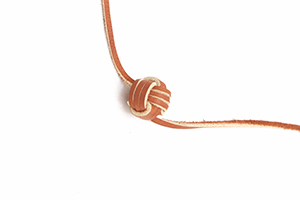 Through our unique approach to rehab and sobriety, we at The Crossroads Program have helped many teens achieve lasting sobriety. To learn more about our treatment program and how we can help, contact one of our drug rehab centers today. Reach us by phone in St Louis at 636-532-9991, in Columbia at 573-256-8020, and in Kansas City at 816-941-4000.